Skip to Content
Count on Lang Pools, Inc. to Keep Your Pool Clean!
Our professionally trained maintenance crew at Lang Pools, Inc. is equipped to offer any and all services needed to make sure your swimming pool and spa look and run their best. Our team works in trucks that are GPS-monitored and radio-controlled. Our vinyl liner crews have installed thousands of liners on all types of pools. We have a wide assortment of the newest vinyl patterns to offer residents of Fairfield County, CT & Westchester County, NY.
We offer the most experienced masons for required renovations on your concrete pool, including tile replacement, re-plastering, and coping replacement. Our masonry crew can also completely redo your pool's surrounding patio to ensure that your guests are safe, even if they decide to run around the water.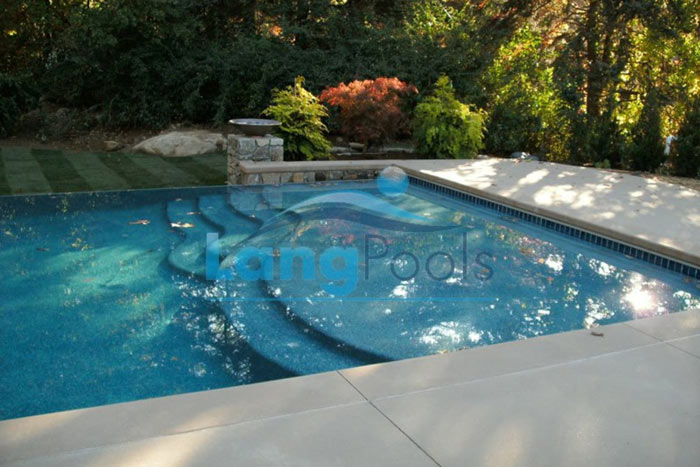 Weekly Pool Maintenance Services Offered in Fairfield & Westchester
All of our staff at Lang is certified and trained through the N.S.P.I. and equipped to handle any issues that your pool may face either from the winter seasons or natural wear-and-tear. We offer weekly maintenance services to help your pool or spa keep its pristine appearance. Each of our weekly cleaning visits includes:
Evaluate chemicals
Clean & vacuum pool
Clean & backwash filter
Evaluate equipment
Brush pool wall & bottom
Pool Opening Services from Lang Pools, Inc.
Congratulations, you survived the winter! Now it's time to open up your pool and get ready for the many summer days that are coming your way. Let the professionals at Lang Pools help you properly open your pool so that it is safe and ready for your family's cannonball contest. While our services are listed below, chemicals, repairs, and cleanup of debris is NOT included and gets charged as initial vacuum cleaning. Standard pool opening services include:
Removal of winter cover
Start circulation system
Test heater
Add chemicals
Notes:
Chemicals and repairs provided at an additional charge.
Cleanup of debris is NOT included and is charged as initial vacuum cleaning.
Pool Closing Services from Lang Pools, Inc.
It's that unfortunate time of year again where the wind grows cold, everything freezes, and you have to close your pool. Let the professionals at Lang Pools help close your pool to ensure its safety from frozen water. Below are the services we will perform to guarantee your investment is carefully taken care of and will be ready for the spring and summer months. Note that there may be additional charges for chemicals, repairs, and pre-closing cleaning. Standard Lang pool closing services include:
Lowering water level
Install existing cover
Blow out and drain all pool piping and filter equipment
Test water for chemical balance
Note:
Chemicals and repairs, pre-closing cleaning at additional charge.
Pool Repair Services
Our repair technicians are factory trained on all the major brands of pool equipment, including Jandy and Zodiac. We also offer the following repair services:
Pool Cleaners Installation, Repair or Replacement
Filter Service, Repair and Replacement
Pump Service, Repair or Replacement
Heater Repair and Replacement
Cover and Liner Repair and Replacement
A pool without a cover is like a home without a roof. Be prepared for all storms and the winter months by purchasing one of our automatic or manual covers. There isn't a pool that we can't cover. They also help save energy if you have decided to heat your pool and will help keep it cleaner by blocking debris and dirt when you are not enjoying the waters. If you're considering a new vinyl liner, let Lang Pools, Inc. help with this transition. With over 24 years of experience, Lang specializes in making vinyl liner replacements as painless as possible. Our experts recommend and use vinyl liners from Latham and GLI liners.
Reach out Today for a Free Estimate on Your New Backyard Getaway!