Skip to Content
Lang Pools, Inc. Highly Recommends Automatic Pool Covers
At Lang Pools, Inc. in Norwalk, CT, we offer automatic covers with all of our new pool construction. We also offer safety/winter covers for all pools. Whether you already have a pool or you're planning to build one, you should always remember that a pool without a cover is like a house without a roof. And once you have an automatic cover, you'll wonder why anyone would ever own a swimming pool without one. It protects family and friends and ensures that your swimming pool will remain the outstanding source of fun and enjoyment you intended to be. Be sure to tell your Lang pool designer that you want an automatic cover on your new pool project!
If You Have a Pool in CT or NY, You Should Have a Pool Cover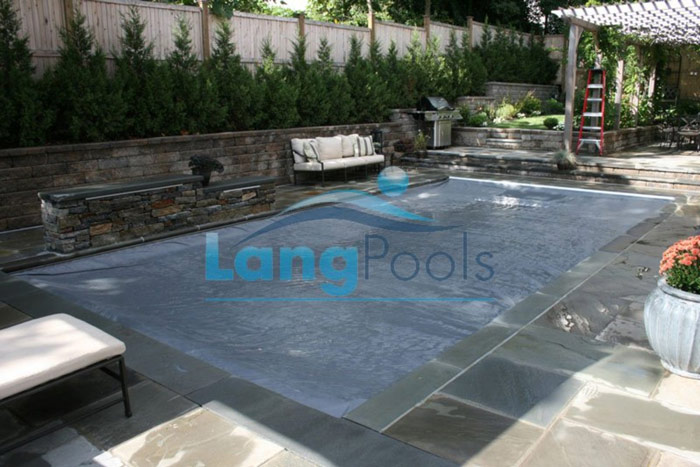 We install pools all over Fairfield County, CT & Westchester County, NY and we experience every season of weather on this coast of the country. Your pool is an investment and should get protected appropriately. The most common objection from people we speak with is that they either don't like the look of them or don't have space on their pool deck for the roller. Lang Pools Inc. highly recommends automatic pool covers because they:
Save energy if you're heating your pool
Keep your pool cleaner by preventing dirt and debris from entering
Provide a safety barrier, which is valuable when you're not around
Can be designed to fit ANY pool or spa
Are SUPER EASY to use
We make sure to find the room required for you to be able to protect your pool. Count on us and our 24 years of experience.
Lang Pools Works with CoverPools® & Coverstar for Protection
Contrary to what you may have heard, pool covers can get installed on all kinds of pools, including vanishing edge, perimeter overflow, dual-level, and all sorts of other cutting-edge designs. We offer automatic covers from CoverPools® and Coverstar because they create the world's most excellent automatic pool covers. CoverPools® provides a wealth of options to blend with the style of your outdoor living area. Choose from a variety of aesthetics and control options to further customize your CoverPools® pool cover system. Contact Lang Pools, Inc. for more information about our pool covers!
Reach out Today for a Free Estimate on Your New Backyard Getaway!