Skip to Content
Lang Pools, Inc. is Ready to Protect Your Pool Year-Round
Our trained technicians at Lang Pools, Inc. can open or close your pool for you and your family. Having our professional team take care of opening and closing ensures that your pool or spa and equipment get handled correctly and that it can weather any season Fairfield County, CT & Westchester County, NY offers. Both of these services are critical to your pool's and spa's performance in the usable months. Mother Nature can wreak havoc on your plumbing system during the winter by freezing the pipes. A proper closing leads to a more natural opening in the spring, and an effective pool opening will lead to better, more transparent, and cleaner water all summer long.
Pool Opening & Closing Services from Lang Pools, Inc.
The winter months can be a real bummer, as cold winds and snow replace the hot temperatures and sun-filled days with backyard barbeques. Let the professionals at Lang Pools, Inc. help alleviate some of the stress by making sure you can come back to your pool and spa once the ice has melted away.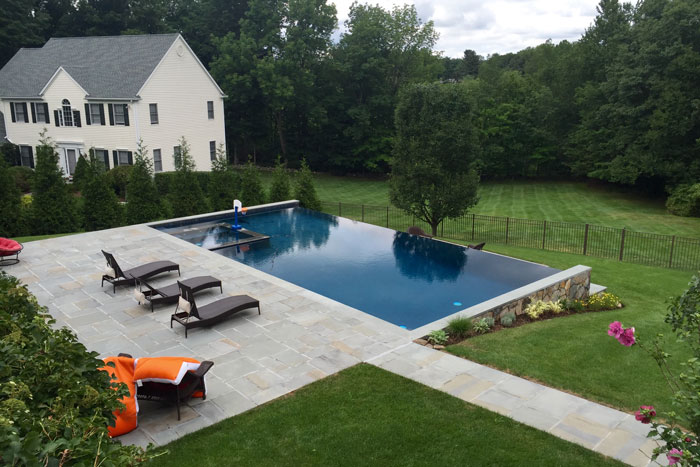 Standard Lang pool closing includes:
Lowering water level
Install existing cover
Blow-out and drain all pool piping and filter equipment
Test water for chemical balance
Standard pool opening from Lang includes:
Removal of winter cover
Start circulation system
Test heater
Add chemicals
Don't be hassled by the long and complicated process of adequately opening and closing your pool and spa. Allow the professionals at Lang Pools to help you close and open your family pool so that you can get back to enjoying your backyard parties with your cool inground pool!
Trust the Professional Staff at Lang Pools, Inc.
We hope that you allow us to help with your closing and opening to ensure its success throughout the year and provides excellent performance. We offer lifetime warranties on all of our pool structures, and we use more concrete in our construction than any competitor in the industry. Let Lang take you out into the field to see how your backyard dreams can come true.
Reach out Today for a Free Estimate on Your New Backyard Getaway!