Skip to Content
Seasonal Pool Maintenance from Lang Pools, Inc.
Owning a pool should be all fun and games, and by trusting Lang Pools, Inc. to take care of all of your seasonal maintenance needs in Fairfield County, CT and Westchester County, NY, it can be! Our professional crews are trained to help maintain your pool by opening it in the spring, checking chemicals in the summer, closing it in the fall, and installing a cover to protect it in the winter. These are all tasks that need to be taken care of to protect your investment.
Having certification from the National Spa and Pool Institute means that we are trained by the best and that we are up-to-date on the most modern techniques of pool maintenance. Our fees are reasonable, and all of our work is guaranteed for your safety and your pool's.
Weekly Maintenance in Fairfield County, CT & Westchester County, NY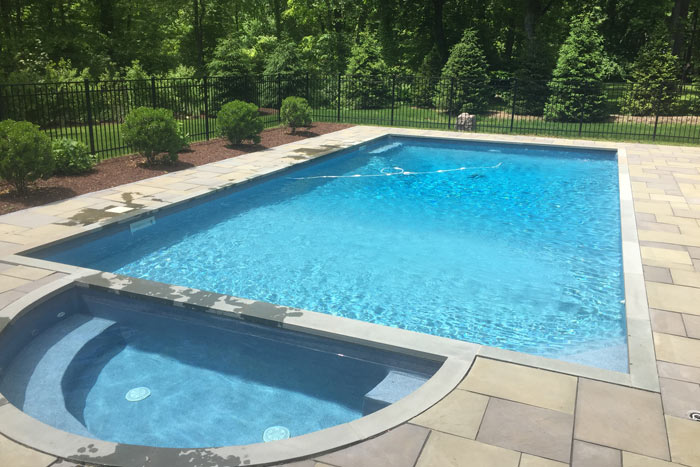 Our team is set up to visit all of our clients in Fairfield County, CT & Westchester County, NY, and will make weekly trips if requested to maintain and protect your pool throughout all four seasons. Each of our weekly cleaning visits includes:
Evaluating chemicals
Clean & vacuum pool
Clean & backwash filter
Evaluate equipment
Brush pool wall & bottom
Not only can our team members assist with chemicals and general cleaning, but they are trained to work on the surrounding patio and will perform renovations for concrete pools. We offer tile replacement, re-plastering, and coping replacement. Here is a helpful guide should you wish to take care of your chemicals.
Years of Experience Help with Seasonal Pool Maintenance
Lang Pools, Inc. has been a family-owned and -operated business for the past 24 years, and we have serviced all the pools we have built and can take on any challenge in any season. We guarantee that our services will give your pool longevity to survive the year and keep its pristine appearance. Our fees are reasonable, and all our work is guaranteed. For more information, or to schedule service, please give us a call or you can fill out our service request form here.
Reach out Today for a Free Estimate on Your New Backyard Getaway!