Skip to Content
When Should You Consider Vinyl Liner Replacement?
If you start to notice that water levels are dropping too quickly in your pool, it could indicate a leak. Check the liner around the skimmers, cleaner line, lights and steps, and in the corners for any tears or separations. Whether you find the exact spot in the pool where the leak is, please call Lang and trust that we can help with your vinyl liner replacement.
They tend to be very elastic in the first five years. Vinyl pool liners can last anywhere from 5-12 years but can become very brittle around 5-7 years after they get installed. The summertime is the best time to replace the liner because it will have more elastic movement and can line up against the pool better. The vinyl liners do not adhere well during the colder months. Lang Pools, Inc. recommends doing this before you open the pool for the season.
Why Select GLI Pool Product for Vinyl Liner Replacement?
When making the vinyl pool liners a reality, we considered more than just aesthetics from our selected vendors. These superior liners from GLI look great, but more importantly, they come with the quality and durability you can expect. Here are a few reasons why you should feel good about GLI pool products: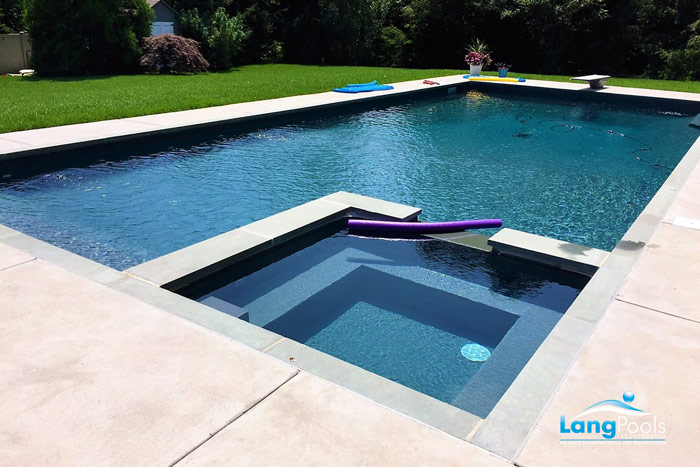 Nine designer-styled liner patterns featuring superior print quality
Realistic three-dimensional presence offering natural stone colors and textures
Color-matched liner beading—no more intrusive generic white bead edge
Designed to complement the landscaping and agricultural designs of the 21st century
Backed by a 25-year limited warranty
GLI's designers have worked to create and design patterns to meet the custom vinyl pool builder's ever-changing needs. They pride themselves on keeping themselves and design modern by paying attention to all the latest trends in the industry. These patterns are rich in color and contrast beautifully with the outdoor environment, while the contemporary tile adds unique detail to your pool.
Vinyl Liner Replacement from Lang Pools, Inc.
If you're considering a new vinyl liner, let the professionals at Lang Pools Inc. help with this transition. With over 24 years of experience, Lang Pools, Inc. specializes in making vinyl liner replacements as painless as possible for Fairfield County, CT & Westchester County, NY residents. At Lang, our certified pool specialists recommend and use vinyl liners from Latham and GLI liners.
Reach out Today for a Free Estimate on Your New Backyard Getaway!